Last July, first-time airplane buyer Chuck asked Savvy to manage a prebuy on a 1966 Beechcraft Musketeer. Chuck lives near Macon, Georgia, and the airplane was located in Ft. Pierce on the east coast of Florida.
Normally, we encourage prospective buyers to let us perform a preliminary logbook review prior to them making an offer – something we do at no charge – because we don't want our clients spending money on a prebuy unless we're sure that the logbooks don't reveal any red flags or show stoppers and that the plane looks like a decent purchase candidate.
Chuck didn't take advantage of this free service. By the time he signed up for SavvyPrebuy, he'd already signed a purchase/sale agreement with the seller of the Musketeer and already test-flown the aircraft. It was pretty clear that Chuck was already convinced that he wanted to own this airplane.
Scheduling the Prebuy
The task of managing Chuck's prebuy fell to Tom Cooper A&P/IA, one of Savvy's most experienced account managers. However, Tom was unavailable for a week, and Al Hawthorne A&P/IA agreed to take charge until Tom returned.
I'll grab this one for Tom until he returns, Al told Chuck. I see the plane is in Ft. Pierce, Florida, and that we have the scanned maintenance logs. I'll review the logs for a few things and get back to you. Will you need the plane test flown before the start of the prebuy?
Thank you for picking this up, Al, Chuck replied. I am looking forward to working with you all. Savvy has been very good to my father-in-law with his plane!
Chuck continued, We have flown the plane and were happy with it. We identified that the brakes were spongy, especially the right brake, but the owner said he just got the plane out of annual and was going to take it back to get that corrected. Also we identified that the transponder was out of biennial certification and the owner has had it certified since our test flight.The owner is a student pilot only, so if we have to fly the plane somewhere else for the prebuy we'll need to find someone else to accomplish that.
Al reviewed the Musketeer's maintenance records and reported to Chuck, I saw the 2020 annual signoff for the prop and engine in the logs, but there was no annual inspection signoff for the aircraft itself, so I'm not sure it's legal to fly.
As for where to have the prebuy done, Al continued, we've had good luck with Aircraft Maintenance Specialist, Inc. at West Palm Beach (F45) and they have good Beech experience. This is who I recommend we use. Is that fine with you?
We are good with that, said Chuck. It's only 40nm away from Ft. Pierce. I am working with the owner to find if he has someone that can move the plane. Please let me know what availability the shop has so we can get this prebuy going. I looked at the logs again and it does appear as if the shop that performed the annual made two signoffs for the engine but missed signing off the aircraft. I will advise the current owner and see if he can get with the shop and get the correct logbook sticker. Thank you for pointing this out.
Al contacted Johnny Stinson A&P/IA, director of maintenance at Aircraft Maintenance Specialist, Inc. to ask if he could accommodate Chuck's prebuy on his shop schedule.
Al, we would be glad to, we couldn't schedule it until Monday July 6th, Johnny told Al.
Does the July 6th start date work for you? Al asked Chuck. If so I recommend we lock it up.
Yes that works fine, Chuck said.
Johnny, thank you and the July 6th start date has been approved, Al told Johnny. We'll get the prebuy checklist to you later.
Scope of the Exam
Tom Cooper returned and Al now handed the reins off to Tom to manage Chuck's prebuy. Tom was clearly concerned about this 54-year-old metal airplane that was based in the ultra-high corrosion-risk environment of Florida's east coast.
I am back and ready to go, Tom told Chuck. These aircraft have had issues with wing spar corrosion so we will need to take a close look at that. In these older aircraft there can be a lot of hidden issues, so I recommend we use the complete Beech 100-hour inspection checklist for this prebuy. This will increase the cost of the prebuy, but discovering what was missed at the annual inspection after you purchase the aircraft can cost a lot more money than the cost of a thorough prebuy.
Johnny said that a full 100-hour or annual inspection on the Musketeer would cost $1,980 and that the borescope inspection requested by Tom would add $220 to the cost.
I am good with it all, Chuck indicated.
We have received approval for the full 100-hour inspection that you posted, Tom advised Johnny. As I recall these aircraft did have spar corrosion issues so please have a good look. Also please complete a borescope exam of the cylinders.
Improvements?
We have a few things we want done to the plane, assuming that the prebuy goes well, Chuck told Tom. We'd like to install shoulder harnesses for the front seats, we'd like to replace the attitude indicator, and we'd like to remove the DG and install an HSI. Does it make sense to ask the prebuy shop to do this work while they have the airplane opened up for inspection?
Chuck, I would recommend that you hold off on this work until you've purchased the aircraft and title is in your name, Tom advised. We can certainly ask Johnny for an estimate, but it's way too early to pull the trigger.
I agree completely about waiting till we own the plane, replied Chuck. We would like to know the cost to do the shoulder harness STC and swap the two instruments. Also we are looking at putting a JPI EDM 730 in to monitor the engine. We found it on Aircraft Spruce as a kit for $1995 and would like to include that in the quote.
An engine monitor would be a prudent addition to the aircraft, Tom said. But we are getting a little ahead of ourselves. The added improvements that you are looking at do not come into play right now. At this time we are strictly concerned with the prebuy exam. If the aircraft passes the prebuy close the deal, you will have the opportunity to enroll the aircraft in Savvy's managed maintenance program and those upgrades will become our first order of business.
As a full-time client a Savvy manager will be assigned to your aircraft at which time estimates and timelines can be obtained.
The Prebuy Begins
Good morning Johnny, just checking in to verify that you have the aircraft and work has started, Tom posted. We would like to verify cylinder compression hot first thing, please.
Yes, the plane just showed up, Johnny reported. Compression very good: 76, 78, 76, 78. Exhaust valve look good. We're working on getting you borescope images.
Then two days later, Johnny posted:
We are just finishing inspection, we have identified about 40 discrepancies. Our parts guy has the discrepancies now and he will getting prices of parts and writing up repair estimates which we hope to get to you later this afternoon.
You guys are the best :), replied Tom. Please make sure you identify which discrepancies are airworthiness items that the seller should be paying to correct.
An Ugly Verdict
Please find attached copy of inspection estimate, Johnny posted that afternoon. We have a bit more to do, but thought this may be enough for you to make some decisions. Also attached is spreadsheet with all cost of parts and labor to make the necessary repairs. The last inspection in the airframe logbook was signed off by A&P as 100-hour inspection. There were signoffs by an IA for an annual inspection of the engine and propeller, but none for the airframe. Therefore, I do not believe the aircraft is signed off correctly which means the aircraft is technically out of annual.
I have posted photos of the severely rusted spark plug, the severely rusted and warped right brake disc, and the bad wheel bearings that look like they haven't been packed with grease for a long time. Also of the engine mounts which are severely sagging.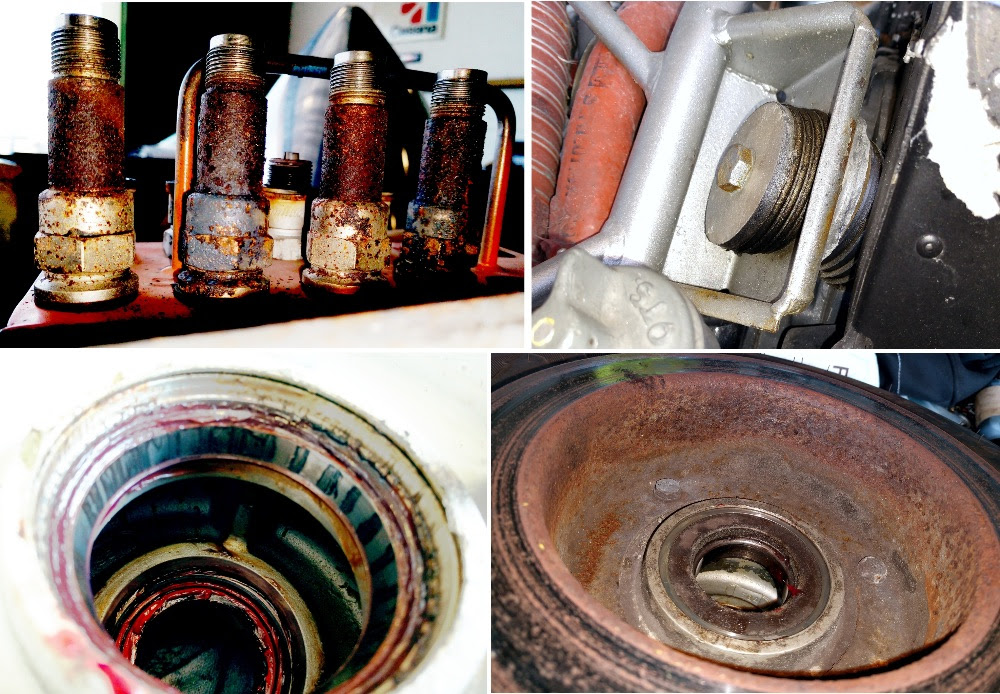 Rusted spark plugs, sagging engine mounts, rusted and warped brake disk, bad wheel bearings.
Going through the detailed work order revealed the following issues (among others):
Last annual signoff on airframe was four years ago.
No record of AD compliance for the past 10 years. Eight recurring ADs identified with no record of compliance.
Last engine major overhaul was performed by an individual A&P rather than an FAA-certified engine repair station.
Heavy corrosion on engine cowling, engine intake tubes, engine baffles, fuel fillers, fuel strainer retention bolt, spark plugs, brake discs, and wheel bearings and races.
Numerous prop spinner screws seized, no evidence that spinner has been removed despite annual inspection signoff of propeller.
All three landing gear shock strut doughnuts severely rotted and in very bad shape. Cost to repair: $9,800.
All three landing gear wheel bearings and races are badly worn and corroded. Cost to repair: $1,000.
Right brake disc worn beyond limits and corroded. Cost to repair: $400.
Upper engine mounts sagging and have large gaps between isolator and mount pad. Cost to repair: $1,300.
Vacuum pump shaft sheared, oil leaking from pump. Cost to repair: $800.
Magnetos have not been overhauled or IRAN'd for 20 years. Cost to overhaul mags: $2,200.
Compass dry and correction card missing. Cost to repair: $300.
Both control column guides broken. Cost to repair: $1,300.
Both aileron rod ends worn. Cost to repair: $1,600.
Flaps do not retract fully.
All cabin air controls are seized.
Tail strobe inoperative.
Cabin fire extinguisher missing.
Tom phoned Chuck and then memorialized his phone call: Thank you for taking my call today. After going over the prebuy findings, I agree that this is NOT the right aircraft for you. Even if the seller wanted to cover the cost of repairing all the airworthy items (which seems doubtful), the issue of the undocumented AD compliance is still a big problem. We would have to ask the shop research complete AD list and then confirm that all ADs are up to date and that the plane can pass an annual inspection. I'm also worried about corrosion hiding in places that we haven't looked yet. It's just not worth it.
Tom posted to Johnny: We have reviewed the estimate with Chuck and he has wisely decided to walk away from this aircraft. Please post an invoice for the work completed by your shop. Great prebuy exam, very much appreciated! Please make the aircraft ready for flight. The seller has been advised that the aircraft appears to be out of annual and that he will need a properly signed off annual inspection entry or a ferry permit to fly the aircraft home.
Well, buddy that looks like a wrap for this prebuy, Tom posted to Chuck, unless you have any questions.
Thank you for everything, Tom. Savvy saved us so much heartache. I've found another purchase candidate, a 1965 Piper Cherokee 180 based in Louisburg, North Carolina. I have requested that Savvy perform a preliminary logbook review for the new candidate and am awaiting the results.

One More Time
The preliminary logbook review for this Cherokee 180 was performed by Savvy's Tony Barrell A&P/IA, and it turned up no red flags or show stoppers. The fact that this plane spent most of its life living well inland in North Carolina rather than on the east coast of Florida was encouraging. Tony concluded that this seemed like a viable purchase candidate.
Chuck asked Tom to set up the prebuy at Plane Design at Triangle North Executive Airport (KLHZ). The director of maintenance there is Rick Pahnke A&P/IA. Rick agreed to perform the prebuy examination and quoted $1,800 to do the full Piper 100-hour inspection checklist. It took about a week for the shop to complete the examination, after which Tom phoned Rick to discuss the exam findings.
Chuck, I have had the chance to speak with Rick and have covered everything of interest. From my conversation, I am convinced that this is a very clean aircraft. The borescope produced no issues and the oil filter was clean. The magnetos were due for 500-hour inspections, but the seller agreed to pick up that cost. My recommendation would be to move forward and close on the aircraft. Let me know if you have any questions.
Chuck closed the deal on the Cherokee. On July 31, he flew the airplane home to Perry-Houston County Airport (KPXE) and has been flying it at least weekly ever since. We love happy endings!
Chuck had obviously fallen in love with the Florida-based Beechcraft Musketeer. It was a lucky thing he asked Savvy to manage his prebuy instead of relying on the fact that the plane was "just out of annual." We convinced him to have the aircraft moved to another airport where a shop that we trusted and that had lots of Beech experience went through the plane Musketeer with a fine-tooth comb and found that it was pretty much a disaster with corrosion everywhere and a pencil-whipped annual inspection that wasn't even whipped properly. The Savvy-managed prebuy averted what would surely have been a financial catastrophe and enabled Chuck to move onto a far more worthy purchase candidate.
If you're in the market for an airplane, wouldn't you feel more confident with Savvy managing your prebuy?